The Rise of GU iCloud in Education
In today's digital age, the education landscape is profoundly transformed. Students and educators demand more dynamic and personalized learning experiences, which is where GU iCloud steps in. Powered by iCloudEMS, GU iCloud is taking universities and colleges on a revolutionary journey, bringing students, faculty, and management together in a collaborative digital environment.
Galgotias University: Setting The Pace
Galgotias University (GU) in Greater Noida is not just any educational institution. Established in 2011, it is a beacon of innovation and quality education in India. Their collaboration with iCloudEMS, a comprehensive web-enabled education administration software, has been groundbreaking. It offers an extensive array of services, from the core academic functions to the backend administrative operations, making education a seamless and engaging experience for all stakeholders.
iCloudEMS: The Visionaries Behind the Transformation
Founded on the deep-rooted principle, "They honor great education and great educationists," iCloudEMS showcases its dedication to placing students and educators at the heart of the learning process. Originating in Pune, India, in 2017, their team has a collective experience of over 60 years in education and enterprise software. Their commitment to transforming the educational landscape is evident in their rapid growth, serving 150 universities & colleges by June 2020.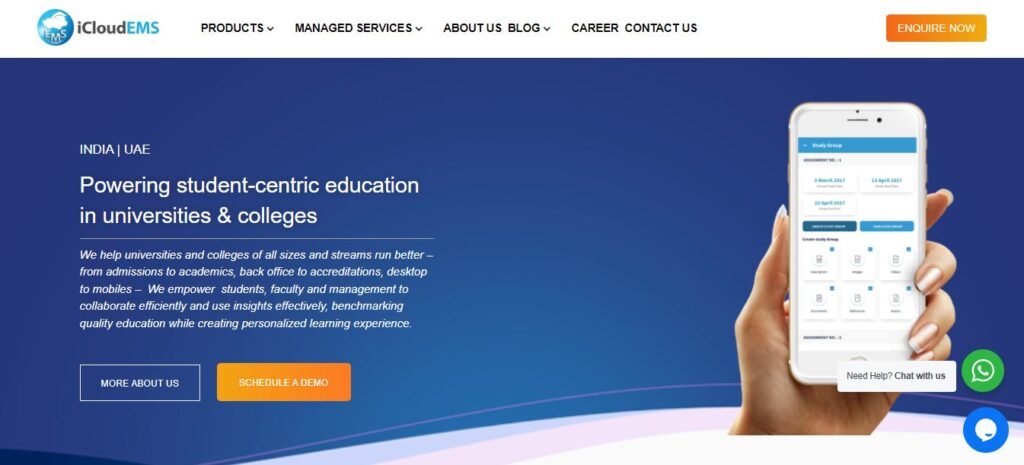 A Journey to Admire
2017: A humble start with ten universities and 50,000 students.
2018: Tremendous growth, reaching 50 universities and 100,000 students.
2019: Expanding horizons with 100 universities and 150,000 students onboard.
iCloudEMS's success story is rooted in its unwavering belief in cloud-based solutions. At a time when many assumed cloud solutions were for smaller institutions, iCloudEMS debunked this myth. Their belief became even more relevant during the COVID-19 pandemic, with numerous institutions now leaning towards their cloud-based offerings.
More Than Just Software
It's essential to understand that GU iCloud, powered by iCloudEMS, is more than just software. It's an experience. As Mr. Dheeren Padhy, the CEO, puts it, while iCloudEMS manages the academic and student lifecycle comprehensively, users can operate it without intricate knowledge. Like driving, the intricate workings stay behind the scenes while users enjoy a seamless journey. This user-friendliness and efficient data migration processes have given them a distinct advantage in the market.
In Conclusion
The education sector's future is dynamic and student-centric, and institutions like Galgotias University, with partners like iCloudEMS, are leading the way. As technology evolves, the importance of adaptive, cloud-based solutions like GU iCloud will only become more evident. Engaging, efficient, and environmentally friendly – this is the future of education.
Also, Read Understanding Layman's Terms.
FAQs
What is GU iCloud?
GU iCloud is a student-centric educational platform powered by iCloudEMS. It's designed to assist universities and colleges in offering a more dynamic and personalized learning experience by streamlining various academic and administrative processes.
How does GU iCloud benefit educational institutions?
GU iCloud helps institutions run more efficiently by offering various services, from admissions to academics and from back office functions to accreditations. Facilitating collaboration among students, faculty, and management ensures that quality education is benchmarked while promoting personalized learning experiences.
Can you tell us about Galgotias University's association with GU iCloud?
Galgotias University, a premier institution in Greater Noida, has collaborated with iCloudEMS to utilize the GU iCloud platform. This collaboration ensures seamless academic and administrative operations, promoting a more effective and engaging learning environment.
What's the founding principle behind iCloudEMS?
iCloudEMS was founded on "They honor great education and great educationists." They are dedicated to placing students and teachers at the center of the education process, ensuring a more student-centric approach to learning.
How has iCloudEMS grown over the years?
Starting in 2017 with ten universities and 50,000 students, iCloudEMS saw tremendous growth, reaching 150 universities & colleges by June 2020. Their steadfast belief in cloud-based solutions for all institution sizes has been a cornerstone of their success.
Why should institutions consider cloud-based solutions like GU iCloud?
Cloud-based solutions like GU iCloud are scalable, flexible, and efficient. They allow institutions to adapt quickly to changing educational landscapes, especially in unprecedented times like the COVID-19 pandemic. Such solutions also offer seamless updates, ensuring the latest features and security measures are always in place.
What makes GU iCloud eco-friendly?
GU iCloud, a cloud-based platform, minimizes the need for physical infrastructure, reducing the carbon footprint. Moreover, its digital-first approach reduces paper usage, making educational processes more sustainable and environmentally friendly.
Who are the visionaries behind iCloudEMS?
iCloudEMS was established by Mr. Dheeren Padhy, the Founder and Chief Executive Officer, and Ms. Anupam Kumari, the Co-Founder and Chief Business Officer. Their combined experience has pioneered the transformative journey of many educational institutions through iCloudEMS.
How can one get in touch with iCloudEMS?
For inquiries in India, you can contact them at +91 9834671439 / +91 7385800816 / +91 9834682502 or contact@icloudems.com. Those in the UAE can be contacted via email at contact@icloudems.com.
Is the transition to GU iCloud a complex process?
No, the transition is streamlined. iCloudEMS prides itself on its efficient data migration processes. Their user-friendly tools ensure universities can smoothly transition to this new platform without significant disruptions.