Introduction
Fashion and food have been two distinct worlds, each with its universe of enthusiasts and connoisseurs. But what happens when these two worlds intersect? Like the Cinnamon Toast Crunch Crocs, you get an innovative, quirky, and fun crossover. Such collaborations prove that boundaries in the creative industries are constantly blurred, leading to fresh and exciting outcomes that enthrall audiences.
The Magic Behind Merging Two Universes
Before diving into the specifics of this collaboration, it's worth appreciating the broader trend of unlikely alliances. In the past, we've seen hip-hop artists team up with classical musicians, tech companies merge with fashion brands, and even car manufacturers create joint projects with toy companies. Crocs and Cinnamon Toast Crunch's partnership offers a visual and sensory treat in this evolving scenario.
A Closer Look at the Design
The amalgamation of Cinnamon Toast Crunch, a beloved breakfast staple, and Crocs, a globally recognized footwear brand, led to a pair of clogs that beautifully mirror the cereal's characteristics. The marbled brown and white foam structure immediately takes you back to those lazy mornings, enjoying a bowl of crunchy cinnamon goodness.
The intricate detailing is impossible to miss. The checkered multicolored ankle strap adds a splash of color, contrasting the base and keeping the design playful and vibrant. The addition of the blue heel pad subtly hints at the milk that pairs so well with the cereal. And for those truly passionate about their breakfast choice, the Cinnamon Toast Crunch-themed jibbitz is the cherry on top, encapsulating the collaboration's spirit.
Functionality Coupled with Aesthetics
However, as with all footwear, design alone doesn't cut it. Comfort, usability, and durability are essential. Luckily, while high on the style quotient, these clogs maintain functionality. The use of Croslite™ foam, Crocs' signature material, guarantees a lightweight and comfortable feel, making them apt for diverse settings, from a casual stroll in the park to running errands around the town.
The design further incorporates ventilation ports, ensuring breathability. It makes them perfect for warmer climates and guarantees that the feet remain fresh and sweat-free, no matter how long you have them on. Moreover, these clogs are a godsend for those who dread the ordeal of cleaning shoes. Their easy-to-clean nature ensures they remain as pristine as the day you bought them without demanding much effort on maintenance.
A Multi-Sensory Experience
Taking the collaboration a step further, the clogs promise a multi-sensory experience. How, you ask? By incorporating a cinnamon-scented aroma. With every step, the familiar, comforting scent of Cinnamon Toast Crunch wafts through the air. It's not just footwear; it's an experience that reminds you of the simpler joys of life.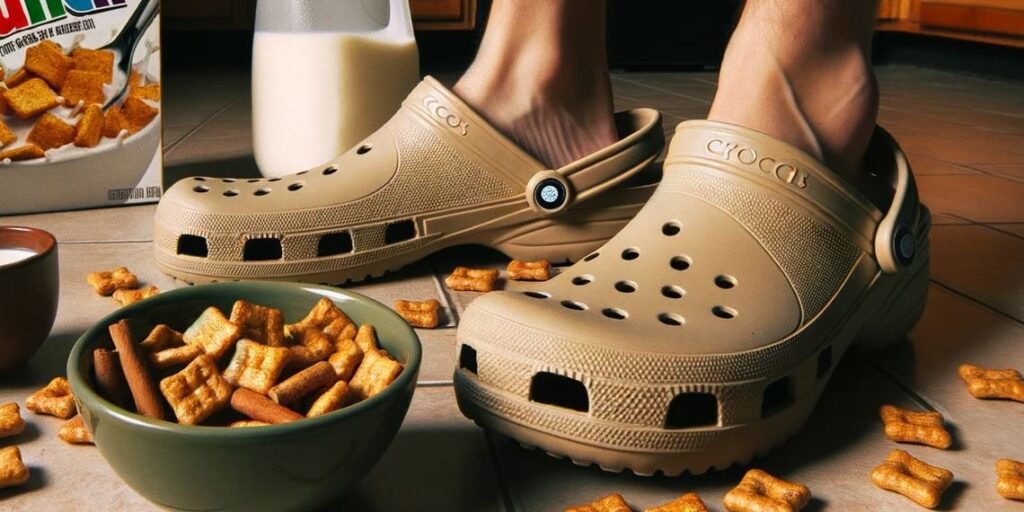 Availability – Where and How to Buy
The anticipation surrounding this release was palpable. Scheduled for a grand launch on April 28, the demand skyrocketed. But for those determined to own this innovative design, they were made available online and in-store at popular outlets like Foot Locker, Champs Sports, and Eastbay. Given their unique design and the massive fan base of both brands, they were touted to be the next big thing in the footwear world.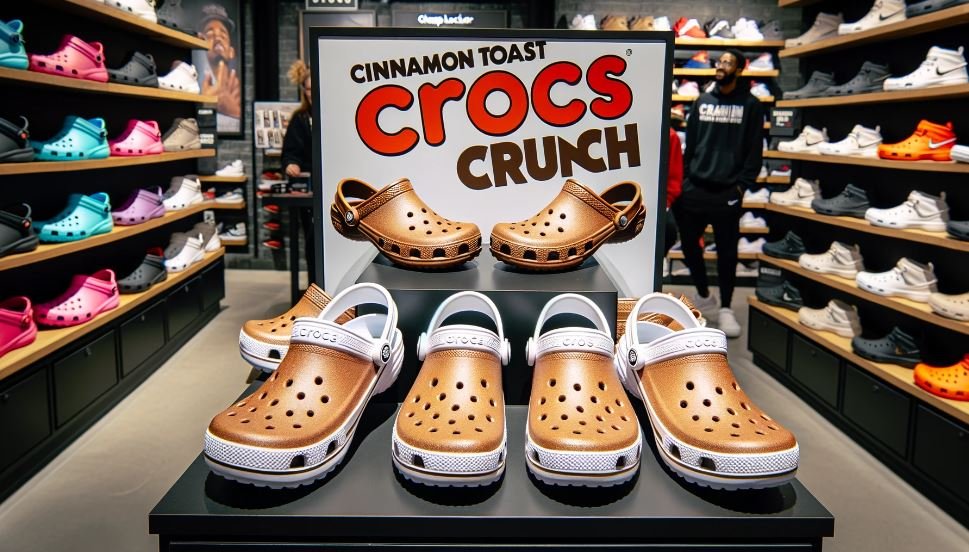 In Retrospect
The Cinnamon Toast Crunch x Crocs collaboration isn't just a fleeting trend. It signifies a more significant movement in the consumer industry. Brands increasingly recognize the potential of stepping out of their comfort zones, experimenting, and offering their customers something unique.
It's a win-win. Brands tap into a new segment of audiences, and consumers are treated to fresh, innovative products that break the monotony. The success of such collaborations also encourages other brands to think outside the box, ensuring the market remains dynamic and ever-evolving.
Conclusion
The blending of the cereal and footwear worlds was unexpected. Still, it has set the stage for more such exciting collaborations. With boundaries being constantly pushed and creativity at an all-time high, who knows what's next?
One thing is for sure: the Cinnamon Toast Crunch Crocs have paved the way for thinking beyond the conventional, proving that anything is possible with a dash of creativity and the right partnerships. They aren't just a pair of shoes; they are a testament to innovation, a reminder that the sky's the limit in the world of design and collaboration. So, as we lace up (or, in this case, slip on) and step into the future, we can look forward to many more delightful surprises along the way.
Also, Read Juice Wrld Hoodie.
FAQs
What are the Cinnamon Toast Crunch Crocs?
The Cinnamon Toast Crunch Crocs are a unique pair of clogs resulting from a collaboration between the globally renowned shoe brand Crocs and the popular breakfast cereal Cinnamon Toast Crunch. These clogs combine the cereal's playful aesthetics with Crocs's comfort and functionality.
How do the clogs look in terms of design?
The clogs boast a marbled brown and white foam structure reminiscent of the cereal. They are adorned with a checkered multicolored ankle strap, a blue heel pad, and Cinnamon Toast Crunch-themed jibbitz to emphasize the playful theme.
Are they made of the usual Croc material?
They are crafted from Crocs' signature molded Croslite™ foam, known for its lightweight and comfortable properties.
Do these clogs have any unique features?
Apart from their distinctive design, these clogs are infused with a cinnamon-scented aroma, offering a multi-sensory experience reminiscent of the Cinnamon Toast Crunch cereal.
Where can I buy the Cinnamon Toast Crunch Crocs?
The clogs were available online and in-store at Foot Locker, Champs Sports, and Eastbay.
When was the launch date for these clogs?
The Cinnamon Toast Crunch Crocs were set for a grand release on April 28.
Are these clogs easy to clean and maintain?
Yes, much like traditional Crocs, these clogs have an easy-to-clean nature. They are also equipped with ventilation ports for breathability, ensuring freshness even after prolonged use.
Can I expect more collaborations like this in the future?
Given the innovative nature of the market and the success of such unique collaborations, brands will continue to explore similar partnerships in the future, offering consumers fresh and exciting products.
Are these clogs limited edition?
Given their collaborative nature and unique design, they were expected to be in high demand. It's advisable to check with the specific retailers for availability.
Why should I consider buying the Cinnamon Toast Crunch Crocs?
Suppose you appreciate out-of-the-box design, value comfort, and have a fondness for the iconic cereal. In that case, these clogs are a perfect blend of nostalgia, fashion, and functionality. They offer a fresh take on footwear while ensuring the quality and comfort that Crocs is known for.